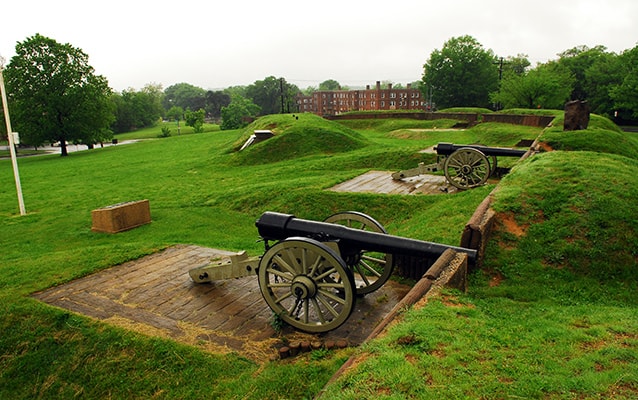 Fort Reno Park (US Park Service)
We wanted to share some events and activities that list members might be interested in. Have a great weekend -- and week beyond, too. If you know of an event that the 16,200+ members of the Cleveland Park Listserv should know about, email us at events @ fastmail.net.
Peggy Robin and Bill Adler
Publishers, Cleveland Park Listserv
www.cleveland-park.com
Thursday, July 29 at 6 PM, Performance: Tabla for Two
, featuring Abigail Adams Greenway and Masood Omari, musicians. It's an evening of music and celebration with tabla master Masood Omari and Abigail Adams Greenway, his esteemed student. Together they form Tabla for Two, performing new compositions written by Omari for two tabla players. Tabla are highly complex drums used in Indian and Near Eastern classical music played with the fingers and heel of the hand. Omari is a tabla master in the Punjab lineage, and Greenway began to apprentice with Omari after a career in the visual arts. Free; no reservations required. At the George Washington University Museum and The Textile Museum, 701 21st Street, NW. More info:
https://museum.gwu.edu/tabla
Friday, July 29 from 5:30 - 7:30 PM, Bob Perilla's Big Hillbilly Bluegrass
, presented by the Friends of the Forest Hills Playground. This is a free, all-ages show. Bring a picnic (or cash for pizza) and get ready to groove! Armand's Pizza truck will be selling slices and whole pies (a portion of the proceeds will be donated to the playground) starting at 5:30 PM. The live performance will begin at 6 PM. At 32nd and Chesapeake Streets, NW
Friday July 29 from 6 - 9 PM, "Friday Nights in the Heights" featuring live blues music by Bad Influence. Bring your lawn chair, dancing shoes and friends/family for your new neighborhood hot spot for Summer 2016. Free. At Cathedral Commons, Wisconsin Ave & Newark St NW.
Saturday, July 30 at 2 PM, Hike to Fort DeRussy.
A Park Service Ranger will lead a one-mile hike from Rock Creek Nature Center to Fort DeRussy, a Civil War fort. Free. Information on this and other events at:
https://www.nps.gov/rocr/upload/July-2016.pdf
.
Saturday, July 30 starting at 10:30 PM, Harry Potter and the Cursed Child Release Party.
Stay up past your bedtime for the much-anticipated release of Harry Potter and the Cursed Child. Politics & Prose has transformed its coffeehouse/wine bar, The Den, into a Hogwarts House common room! There will be Wand Making and Crafts downstairs, and Harry Potter NERDs trivia from 10:45 - 11:30 PM at the back of the store; a Harry Potter Read-a-loud from 11 - 11:30 PM in The Den, and the announcement of the Costume Competition winners in two age categories (12 & under; 13 & older) at 11:45 PM.... And At Midnight Harry Potter and the Cursed Child goes on sale! Complete details at:
http://bit.ly/2aeQDWs
Sunday, July 31 at 2 PM, Celebrate Harry Potter's Birthday.
As all good witches and wizards know (and many muggles, too), July 31 is Harry Potter's birthday. Come for a free slice of Hagrid's Rock Cake, a handful of Bertie Bott's Every Flavor Beans, a few leaping chocolate frogs and a glass of butterbeer. To get to the party, you can apparate, use floo powder, hop on your broomstick, or use a portkey, but to find the secret address, you must recite the magic spell: "Hoc est fictus felis eventus" as you click on this magical link
http://tinyurl.com/oq24h94
. (But this really IS Harry Potter's birthday -- see
http://harrypotter.wikia.com/wiki/31_July
)
Sunday, July 31 at 2 PM Stories From Around the World: Featuring Russia.
Listen to stories and engage in hands-on activities. Presented by Nellie Manis, an alumna of the Critical Language Scholarship Program, a US Department of State International Exchange Program. Intended for children 5-10 years old. Free. At the Mt. Pleasant Library, 3160 16th St NW,
http://www.dclibrary.org/node/53693
Sunday, July 31 at 5 PM Commemoration of the Warsaw Uprising.
This year we will commemorate the 72nd Anniversary of the Warsaw Uprising. The fight against Nazi occupation in Warsaw during the World War II, organized by the Home Army (Armia Krajowa) started at 5 pm, on August 1st, 1944 and lasted for 63 days. Poland's Deputy Chief of Mission, Minister Counselor Maciej Pisarski will address the audience.There will also be a Q&A session with two participants of the Uprising: Ms. Helena Szyszka and Ms. Krystyna Wolanczyk, and a sing-along of some most popular patriotic songs from that era. This is a free event. A reception prepared by Creative European Cooking follows. At the Kosciuszko Foundation, 2025 O Street NW,
http://bit.ly/2aizBHK
Monday, August 1 from 7 - 9:30 PM, Fort Reno Concert
by Chimp Suit, Split Seconds, and Sun Machines. Free. What you can bring: Friends, Dogs, Babies. What you can't bring: Alcohol, Drugs, Glass bottles. Rain Info: From time to time shows get rained out, if you're ever wondering if a show is happening or not call 202-355-6356 for information. Fort Reno is located across the street from Woodrow Wilson High School. Directions are available at
https://goo.gl/maps/TYVCpzxwEB32
Monday, August 1 at 7 PM, Author Milton Viorst discusses "Zionism: The Birth and Transformation of an Ideal."
In books including Storm from the East, In the Shadow of the Prophet, and What Shall I Do with This People? Viorst has documented the long and turbulent history of the Middle East, while also covering the region as a correspondent for The New Yorker and contributing to publications including The New York Times, The Wall Street Journal, and The Atlantic. His 11th book is a deeply researched and comprehensive history of Zionism. Starting with the European Enlightenment, Viorst traces the development of the movement from its cultural roots through events including the French Revolution, the two World Wars, and more recent strife in the Holy Land. Free. At Politics & Prose, 5015 Connecticut Ave NW.
Tuesday, August 2, at 6 PM, Lecture & Book Signing: A Reading of "Presidents and Pies."
In 1920, Isabel Anderson published "Presidents and Pies: Life in Washington, 1897-1919" about her experiences in DC, mainly during the Theodore Roosevelt and William Howard Taft administrations. Helen Hayes Award-winning actress Naomi Jacobson brings Isabel and her stories to life with selected readings from her book. Free; reservations recommended at
http://bit.ly/2atLfED
. At Anderson House, Society of the Cincinnati, 2118 Massachusetts Avenue NW.
Tuesday, August 2 from 6 - 9 PM, "National Night Out,"
hosted by the Second District MPD, featuring a game truck, face painter, a clown making balloons, and a moon bounce. Food and refreshments will be served while members of MPD 2D promote crime prevention in our neighborhoods. Free. On the Healy Lawn at Georgetown University, 37th and O Streets NW. Questions? Contact Officer Rhonda Hardy, rhonda.hardy @ dc dot gov.