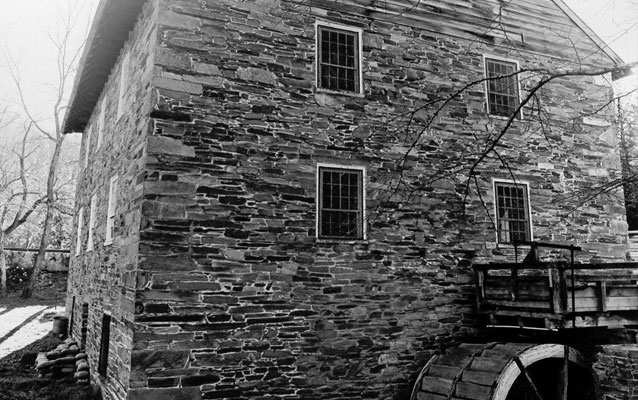 Peirce Mill - National Park Service
We wanted to share some events and activities that list members might be interested in. Have a great weekend -- and week beyond, too. If you know of an event that the 16,300+ members of the Cleveland Park Listserv should know about, email us at events @ fastmail.net.
Peggy Robin and Bill Adler
Publishers, Cleveland Park Listserv
www.cleveland-park.com
Friday, September 9 from 11 AM - 3 PM, "Games, Lunch, and a Movie"

at Guy Mason Recreation Center. Assortment of games will be available at 11 AM. Lunch starts at 12 noon (lunch reservations needed to be in by Wednesday, Sept 7). The movie, "Dead Poet's Society," starring Robin Williams and Ethan Hawke, starts at 1 PM. All free. Call (202) 727-752 for more information. Guy Mason Recreation Center is at 3600 Calvert Street NW.
Saturday, September 10 from 11 AM - 10 PM, 202 Arts & Music Festival

, presented by the DC Commission on Arts & Humanities at Canal Park. Enjoy a full day of arts and music activities for the entire family. Featuring live performances, art exhibitions, interactive workshops and more. Plus DC's biggest outdoor dance party to end the night. Performers include George Clinton and Parliament Funkadelic, Amadou Koyate, DJ D-MAC, Sin Miedo, and more! Canal Park is at 1000 2nd Street SE (Navy Yard Metro). Free, but please RSVP at http://bit.ly/2bZelwF
Saturday September 10 from 10 AM - 3 PM, Family Day at Lincoln's Cottage

. You are invited to the grounds of the Armed Forces Retirement Home where Lincoln and his family stayed, for the fifth annual President Lincoln's Cottage's Family Day event. Family members of all ages will enjoy the live entertainment and creative activities inspired by the Lincoln family and their life at the Soldiers' Home. In addition to the petting zoo, live music and other entertainment, a chance to explore a civil war encampment, and tour of the cottage, this year there will be some new features: you will be able to create a unique family tree and also participate in Unity, a "3-D exploration of interconnectedness." RSVP for this free event at http://bit.ly/2cJJMLD. The entrance to the Lincoln Cottage is at Entrance at 140 Rock Creek Church Road NW.
Saturday, September 10 at 11 AM, STAR Family Festival: Sing, Talk and Read

. Learn how singing, talking and reading with your baby or young child now can help them later in school. It's never too early to give your kids a smart start. Come to DC Public Library's Sing, Talk and Read Family Festival featuring: Workshops for parents to support your child's early learning; Fun activities, crafts and games for children; Live entertainment; Safety, health and education resources for your child; Free books to take home; Door prizes including gift baskets and other giveaways; Free lunch provided (while supplies last); Face painting; Much more! Special guest appearances from Radio One's Angie Ange and Shorty Da Prince. Free. Martin Luther King Jr. Memorial Library, 901 G Street NW, more info: http://www.dclibrary.org/starfestival
Saturday, September 10 from 12 - 6 PM, Hyattsville Arts & Ales Festival

. An estimated 4,500 people will attend this free-to-the-public, family-friendly event. The juried festival will feature over 100 exhibiting artists and artisans, Maryland craft breweries, food vendors, as well as a variety of performances, including music and dance. Tasting passes (ages 21+) are $30 in advance online at: http://bit.ly/2coPvEN and can also be purchased at the gate. Location: Three blocks of downtown Hyattsville (Farragut & Gallatin Streets near Franklin's Brewery). Free parking at Hyattsville Justice Center Garage and designated city lots. Full details at http://www.hyattsvillearts.com.
Saturday September 10 at 1 PM, Book Hill Talk: "Senator Margaret Chase Smith: The Lady from Maine."

Jamie Stiehm, a Creators Syndicate columnist and contributor to USNEWS.com, discusses how "The Lady from Maine" denounced Joseph McCarthy in a floor speech that made Senate history on June 1, 1950. Free. In the Peabody Room at Georgetown Neighborhood Library, 3260 R Street NW.
Saturday, September 10 from 4 - 6 PM, Hard Cider Tasting at Peirce Mill.

Join your neighbors and the National Park Service for a hard cider tasting in Rock Creek Park. The waterwheel will also be turning Saturday to make cornmeal from 11 AM - 2 PM. Visitors are invited to watch Jeanne, the miller, engage this giant wooden machine, which operated commercially on Rock Creek until 1897, when the waterwheel broke. Family games and activities will also take place on Saturday from 11 AM - 2 PM with historic games, water mill toys, and nature crafts. All are welcome but the family workshop is designed for young millers age 3-7. Free! Tickets to the Cider Tasting are $25 and benefit Friends of Peirce Mill, the partner organization to the National Park Service, instrumental in the restoration of Peirce Mill in Rock Creek Park. For tickets, please click on http://www.friendsofpeircemill.org/membership/. Interpreter Nate Marzoli will be giving a brief lecture about the history of cider at 4:45 PM. Located in Rock Creek Park at the intersection of Beach Drive and Tilden Street, NW.
Sunday, September 11 from 12 Noon - 6 PM Adams Morgan Day

, now in its 38th year, it's the longest-running neighborhood-centered festival in DC, celebrating Adams Morgan's eclectic history, culture, businesses, and residents. Live music and dance performances, food & drink, arts & crafts exhibitions, children's activities and games, restaurant specials, vendors, and much more. Centered around 18th St & Columbia Road. Note: This year 18th Street will not be closed. More info: http://www.adamsmorganday2016.com/
Sunday September 11 from 12 - 2 PM, American University Neighbors Back-to-School Picnic.

American University's Office of Community Relations and the Metropolitan Memorial United Methodist Church invite neighbors and students to attend a back-to-school picnic to celebrate the beginning of the new academic year. All are invited to attend. Lunch and kids' activities will be provided. Come out and meet your neighbors and students from American University as we kick off the 2016 school year. At Metropolitan Memorial United Methodist Church, located at 3401 Nebraska Avenue, NW, across the street from AU's main campus. For additional information, please contact AU's Director of Community Relations, Andrew Huff, at 885-2167.
Sunday, September 11 from 1:30 - 4:30 PM, Unity Walk 2016: Know Your Neighbor.

On Sunday 9/11, people of all faiths and cultures from around the Washington, DC region will walk down Massachusetts Avenue and visit houses of worship and other religious centers in a public celebration of unity and support for everyone within our diverse community. We hope you will join us and add your voice to this powerful event. The Unity Walk is open and free to everyone. (There is a suggested donation of $25 for adults and $10 for students, seniors, and those of limited income. Register for the Walk here: http://bit.ly/2bZfjZM. The 2016 Unity Walk (12th annual!) will begin at 1:30 at Washington Hebrew Congregation (Macomb St & Mass Ave NW) and will include a program at The Islamic Center at approximately 4:15 PM. We will visit numerous other religious and cultural centers along the way as we walk down Massachusetts Avenue together. More info: http://ifcmw.org/unity-walk/
Sunday, September 11 at 2 PM, Barbara Saffir's Walking Washington DC

. Join author Barbara Saffir for an afternoon filled with tips for exploring Washington, DC on foot. Free. At the Tenley-Friendship Library, 4450 Wisconsin Avenue NW, http://www.dclibrary.org/node/53906
Monday, September 12 at 12 noon, Talk and Book Signing: "The First Congress."

Author and historian Fergus Bordewich will discuss his latest book, The First Congress: How James Madison, George Washington, and a Group of Extraordinary Men Invented the Government. A free lecture - no reservations required - at The George Washington University Museum/The Textile Museum, 701 21st Street, NW, https://museum.gwu.edu/first-congress
Tuesday September 13 at 4 PM, Karen Brown: Visual Artist & Arts Educator
will show kids how to make one-of-a-kind books and bookmarks through techniques such as pop-ups, maze books, accordion and The One Page Wonder! For ages 6-12. Free. At the Tenley-Friendship Library, 4450 Wisconsin Avenue NW,
http://www.dclibrary.org/node/52839
Tuesday, September 13, 7 - 9 PM, "To Eat Meat or Not to Eat Meat (and How?) Perspectives on Sustainable Food, Ethics and Health Panel Discussion."
Have you ever wondered about whether you should eat meat or not? Is it better to be a vegetarian, vegan, flexitarian, Paleo? Find out what a diverse group of engaging authors and experts on the subject has to say and ask them your own questions about what you should or shouldn't be eating. Each panelist will share her or his current work and positions on eating meat and then you, the audience will have a chance to ask questions of the panelists. The entire evening will be free and open to the public, and refreshments will be served. Donations to Opening Heart Mindfulness Community to cover the costs of the event are happily accepted - visit:
http://bit.ly/2cG1kEd
. For more information about this event, and the panelists, please visit:
https://www.facebook.com/events/642760082546955/
. At Friends Meeting of Washington, 2111 Florida Avenue NW.
Wednesday, September 14 at 6:30 PM, "Save Your History: A Digital Preservation Workshop."

Do you ever wonder what to do with old family photos and crumbling albums? Think about if you'll ever be able to watch or listen to your home movies and old recordings ever again? What about how to manage and preserve your social media accounts, emails and digital files? We invite you, your families, and friends to attend this special presentation on preserving your history through personal archiving. Learn why personal archiving matters, and learn how to save: Home movies; Photographs; Social media account; Papers; Audio recordings; Email; Learn about the Memory Lab at Martin Luther King Jr. Memorial Library. Attendees are encouraged to bring in examples of their family's precious heirlooms and share your story with us. Free. At the Mount Pleasant Library, 3160 16th St. NW, http://www.dclibrary.org/node/53874
Wednesday September 14 at 7:30 PM, "Improve Your History: A Digital Alterations Workshop."

This digital alterations workshop is for all people who come from dull, unimpressive families, and who have accomplished little or nothing for themselves. At this very practical hands-on workshop you will learn how to download photos of handsome, charismatic ancestors, photoshop yourself into exotic travel locales, and give the appearance of having spearheaded innovative and/or charitable endeavors around the world. You will also learn how to erase any embarrassing episodes from your actual past, including any trace of the fact that you attended this workshop. Legal disclaimer: In the unlikely event that you become famous, drawing media scrutiny to your online profile, we cannot guarantee that the digital alteration methods taught at this workshop will be undetectable. Workshop registration fee: $1250 payable in small unmarked bills at the door. For location and materials you will need to bring, go to: http://bit.ly/cpfakeevent.