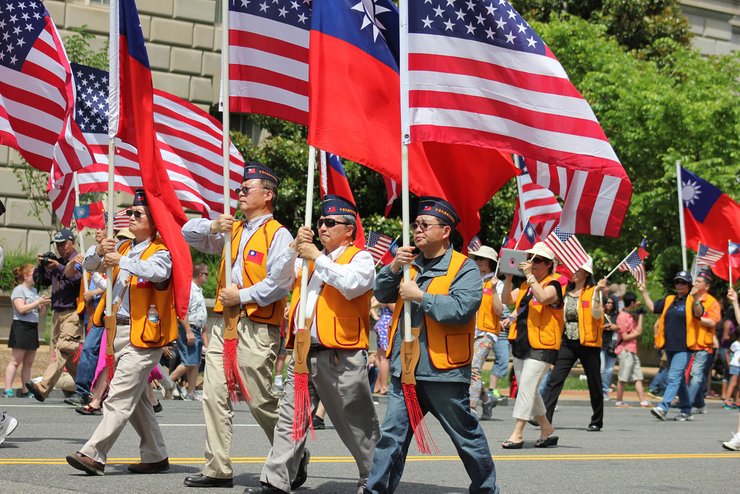 National Memorial Day Parade
We wanted to share some events and activities that we thought would be of interest to list members. Have a great weekend -- and week beyond, too. If you know of an event that the 18,200+ members of the Cleveland Park Listserv should know about, please email us at events @ fastmail dot net.
Peggy Robin and Bill Adler
Publishers, Cleveland Park Listserv
www.cleveland-park.com
Friday, May 24 from 5 - 8:30 PM, Jazz in the Garden
at the National Gallery of Art. Futurist jazz group performs alternative modern jazz. Free admission. At the Sculpture Garden of the National Gallery of Art, 7th Street and Constitution Avenue. More info:
http://bit.ly/2M65o5Z
. To see other groups and performance dates in the Jazz in the Garden summer series, visit:
https://pavilioncafe.com/jazz/jazz-schedule/
Saturday, May 25 from 11 AM - 2 PM, Remembering the "Art Barn."
Friends of Peirce Mill, the Washington Studio School, and the National Park Service are hosting the Art Barn Reunion and Landscape Meet-up at Peirce Mill in Rock Creek Park. Artists of all ages are invited to draw and paint the landscape using their own supplies – or some borrowed from the organizers. Friends of Peirce Mill also welcomes photos and memories of the Art Barn for a slide show it's putting together for the program. Contact education @ friendsofpeircemill dot org for more information. Peirce Mill is at Tilden Street and Beach Drive, NW. More info:
http://bit.ly/2wl7PXT
Saturday, May 25 from 12 - 2 PM, Georgetown Walking Tour: In-TREE-guing Georgetown.
Welcome spring and warmer weather with a tour highlighting the trees that line the idyllic streets of Georgetown. We'll celebrate spring as we peep at a wide variety of species and enjoy the beautiful flora of the neighborhood. Meet at Dumbarton House's Garden Gates at the corner of Q and 27th Streets NW at 12pm sharp! No pets - children 3 and younger are free but must be in stroller. Please wear comfortable walking shoes and bring a bottle of water. Tour goes rain or shine. Begins and ends at Dumbarton House, 2715 Q St NW. Tickets: $20 non-members; $18 members, (plus order fee) at
http://dumbartonhouse.org/event/gtwt-in-tree-guing-georgetown
; if paying at the door, cash or check only.
Saturday, May 25 at 1 PM, SAAM Fellows Lecture: Beyond the Studio: The Barbershop Project.
Local activist poet Micah Powell presents a workshop on using art to spark community action and change our world for the better. Powell has been an influential voice in community building all over the country, having worked with politicians, religious organizations, governments, and communities to empower everyday people. Draw inspiration from his colorful combinations of words, monologues about civil rights leaders, and passionate pleas for peace, then write and perform poetry and brainstorm ways to empower your own community. This program is presented in collaboration with Cultural DC. Free. At the Smithsonian American Art Museum, Luce Foundation Center (third floor). More info:
https://s.si.edu/2HHX9HQ
; register here:
https://eventactions.com/eareg.aspx?ea=Rsvp
Saturday, May 25 and Sunday, May 26 from 12 - 8 PM, Rockville Hometown Holidays & Taste of Rockville.
Enjoy food and drinks from more than 20 of Rockville's best restaurants. Get your food tickets at a Taste of Rockville ticket booth, then browse the food booths along Maryland Avenue and Courthouse Square. Most menu items cost between one and four tickets each. Musical Performances: More than 30 groups perform across six city blocks in Rockville Town Center for the city's Hometown Holidays Music Fest. Bring your chairs and blankets and get there early to stake out your spot. Kids Entertainment: Free, kid-friendly performances will take place on the Town Square Stage. Free admission. For complete details on music line-up, food booths, and kids activities, plus directions and maps, go to:
http://www.rockvillehometownholidays.com/
Sunday, May 26 at 10 AM, Songs of Ourselves, A Performance in Celebration of Walt Whitman's 200th Birthday.
"I am large. I contain multitudes." Founded as one of the first multiracial choirs in Washington DC, the 60-voice All Souls Church Unitarian Choir, joined by nationally recognized poets and spoken word artists, will honor America's first great poet, Walt Whitman, through stories and songs of revolution, resistance, and radical self-love. Song of Ourselves explores Whitman's texts, other poets inspired by Whitman, and cultural ideas celebrated in Whitman's poetry in juxtaposition with music spanning generations, nations, and cultures. This program features the premiere of an original work by composer William Kenlon set to a Whitman text, with musical support from crossover cellist Devree Lewis and local jazz favorites Rochelle Rice (vocals), Todd Simon (piano), Corey Null (bass), and Dante Pope (drums and vocals). Poetry readings by: Sunu Chandy, Marcia Cole, Gregory Ford, Keondra Bills Freemyn, Rev. Bill Hardies, Chris Nealon, Dan Vera, and Elizabeth Zitelli. Free. At All Souls Church Unitarian, 1500 Harvard St. NW. More info:
https://www.walt200.org/events/songs-of-ourselves/
Monday, May 27 from 2 - 4 PM, The National Memorial Day Parade
ushers marching bands, youth groups, floats, performers and, of course, veterans, down Constitution Avenue. This televised parade is the largest of its kind in the US and honors those who have served or presently serve in the U.S. military. Special honorees will be the Heroes of D-Day. Free. The parade route goes along Constitution Avenue from 7th to 17th Street. More info:
https://www.americanveteranscenter.org/avc-events/parade/
Tuesday, May 28 at 10 AM, Lecture - Prisoner: 544 Days in Evin Prison.
When Washington Post Tehran Bureau Chief Jason Rezaian and his wife, Yeganeh Selehi, were picked up by Iranian police, he thought it must be a mistake. Then he was locked up in Iran's notorious Evin prison. Rezaian's guards told him nobody had asked about him. Nobody was trying get him get out. He was a spy for the CIA, they said, and he had been abandoned. Rezaian was accused of espionage, put on trial, convicted and --after 544 days-- released out of the blue at the same time as the Iran nuclear deal was announced. Rezaian's story is one-part farce to nine-parts terror. Jason Rezaian grew up in California, the son of Iranian immigrants. He is the author of Prisoner: My 544 Days in an Iranian Prison-Solitary Confinement, a Sham Trial, High-Stakes Diplomacy and the Extraordinary Efforts It Took to Get Me Out. This lecture is presented by the Osher Lifelong Learning Institute (OLLI) and held at American University's Spring Valley Building, 4801 Massachusetts Ave NW in Room A - 1st floor. Free, but registration is required at:
http://bit.ly/2wfYJeE
. More info:
https://www.olli-dc.org/events/May28
Tuesday, May 28 at 6:30 PM, Holding on to Reno: Community Resistance to Displacement in DC
, Join Neil Flanagan, author of the 2017 Washington City Paper article "The Battle of Fort Reno," for a seminar exploring one community's struggle to fight displacement. Residents of the mixed-race Reno neighborhood in Tenleytown did not make their eviction easy. As white neighbors and developers campaigned for the demolition of their homes, the community worked with elite African Americans to stop the effort for decades. They skillfully used what political leverage they had to expose a plan which, even in the 1920s, was understood to be a corrupt and racist scheme. While the efforts were unsuccessful in the face of overwhelming political power and were forgotten, new archival discoveries show what resistance looked like in the increasingly segregated DC of the 1920s. This lecture is part of the People's University seminar series, developed in partnership with the Smithsonian Institution Anacostia Community Museum to compliment their current exhibition A Right to the City. Free. Register at
http://bit.ly/2Hu85dq
. Location: Shaw (Watha T. Daniel) Library, 1630 7th St. NW,
https://www.dclibrary.org/node/63930
Wednesday, May 29 at 7 PM, Henry Mitchell Garden Lecture.
The Friends of the Tenley-Friendship Library invite you to the annual lecture honoring the late gardening columnist of the Washington Post, Henry Mitchell. Tenleytown resident and landscape contractor Mark Rasevic and his colleague, landscape architect Jonathan Ceci will describe their part in renovating the lovely and historic Nemours Gardens in Wilmington, Delaware, which are the largest and finest example of French-style formal gardens in the nation. The Nemours Mansion and Gardens were created by Alfred I. du Pont in 1909–10 as a gift for his second wife, Alicia, and named for the north central French town from which his great-great-grandfather emigrated. The Gardens of Nemours represent a unique blend of architectural spaces and pastoral landscapes, each of which was, in its heyday, remarkable for their horticultural richness and spectacle. Prior to the restoration, much of this richness had been lost. Rasevic and Ceci's collaboration was critical to the successful renewal of this breathtakingly beautiful public garden. Free. At Tenley-Friendship Library, 4450 Wisconsin Ave. NW. More info:
http://friendsoftenleylibrary.org/index.php/2019-henry-mitchell-lecture/
Wednesday, May 29 from 10 AM - 1 PM, World Otter Day
along the Asia Trail at the National Zoo. Otters need our help! Of the 13 different species of otter, only one — the North American river otter — is not experiencing population decline. Attend an otter feeding or keeper talk, participate in interactive learning opportunities and find out how you can help otters at the Smithsonian's National Zoo's World Otter Day celebration. Special demonstrations and activities will be held near the Asian small-clawed otter exhibit along Asia Trail. Free. The Smithsonian National Zoo is at 3001 Connecticut Avenue NW. More info:
https://nationalzoo.si.edu/events/animal-discovery-days
Wednesday, May 29 from 1 - 2 PM, Someone Otter Do Something About Bad Animal Puns!
The keepers of the Smithsonian National Zoo urge everyone treat animals with dignity and respect and avoid demeaning them through awful animal punning. When it comes to otters, that's quite a challenge, because some people just naturally litter their discourse with animal puns -- even though they're otterly deplorable. Yet it may be impossible to stop people from spouting these jocular otterances; otterwise, they'll call an otterney to say they were deprived of their 1st Amendment right to freedom of the pun. Come hear a panel of distinguished animal experts and civil liberties lawyers discussing the rights of these marine weasels and otter animals not to be subjected to cruel and unusual pun-ishment. This is part of a series. The next session, on World Elephant Day, August 12, will consider bad elephant puns - see
https://punpedia.org/elephant-puns/
to prepare for that event - and go to
https://punpedia.org/
for all the animals that can be punned against. Free. At the Smithsonian National Zoo, immediately following the Otter Day events. To register, go to:
http://bit.ly/cpfakeevent
Thursday, May 30 at 10 AM, Lecture: The Golden Age of Washington—Is Right Now.
The typical television view of Washington includes monumental buildings and imposing Georgetown mansions. But DC is much more than just a federal city. It is coming into its own as a global capital. Join Mary Fitch for a virtual tour of the city to discover the neighborhoods and developments that are helping to create Washington's Golden Age. Mary Fitch is Executive Director of the Washington Chapter of the American Institute of Architects and the Washington Architectural Foundation. She has founded and developed the award-winning Architecture DC magazine, National Architecture Week, Design DC Conference, and built the District Architecture Center. Free, but registration is required at:
http://bit.ly/2X17mWq
. More info:
https://www.olli-dc.org/events/May28
. This lecture is presented by the Osher Lifelong Learning Institute (OLLI) and held in American University's Spring Valley Building, 4801 Massachusetts Ave NW in Room A - 1st floor.
Thursday, May 30 at 4 PM, I Have Thought of You: An Epistolary Poetry Writing Workshop
, hosted by Smithsonian National Postal Museum. Inspired by Walt Whitman's love letter to Peter Doyle, we will look at the art and form of epistolary poems. The art of poetic letter writing. Like Whitman, we will seize objects in nature and those that are man made to write where we are and commune with a lost lover, pal and object. Bring a notebook to write in. This workshop is open to all adults 18 and up for all levels. Led by prize-winning poet and teacher, Regie Cabico; free admission. At Smithsonian National Postal Museum, 2 Massachusetts Ave. NE. Also on display: the two US Postal stamps depicting Walt Whitman, one newly-released for Whitman's 200th birthday.
Thursday, May 30 at 6:30 PM, The Road to Charleston: Nathanael Greene and the American Revolution.
Historian John Buchanan discusses and signs copies of his long-awaited sequel to The Road to Guilford Courthouse that brings the story of the war in the South to its dramatic conclusion. Greene's Southern Campaign was the most difficult of the war. With a supply line stretching hundreds of miles northward, it revealed much about the crucial military art of provision and transport. Greene's attempt to incorporate black regiments into his army was angrily rejected by the South Carolina legislature and a bloody civil war between rebels and Tories was wreaking havoc in the South. Correspondence between Greene and Thomas Jefferson during the campaign shows Greene was also bedeviled by the conflict between war and the rights of the people, and the question of how to set constraints under which a free society wages war. The talk will last approximately 45 minutes, followed by a book signing and refreshments. Copies of the book will be available to purchase at the event. Free. At the Society of the Cincinnati, Anderson House, 2118 Massachusetts Avenue, NW,
https://www.societyofthecincinnati.org/events/public