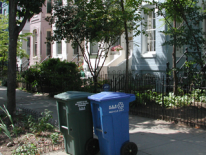 by Peggy Robin
In the course of reviewing the past year's worth of posts on the Cleveland Park Listserv in preparation for next week's "CP Listies" column (the annual awards we give out for the best posts of the year), I was struck by something….or rather the absence of something. Past the first week of April, there have been no more posts from DPW spokesperson Kevin Twine. A complete archives search revealed that his last message to the group was posted on April 3, 2019 -- a routine announcement about the monthly shredding event that would take place at DPW's Fort Totten facility (Message number #
144934
). Kevin's name did not come up again until November 25, when someone replied to a query about Supercan repair with a message saying that the person to call at DPW used to be Kevin Twine, but he's no longer there.
It's an old but true cliché that you often don't appreciate someone till they're gone. In this case it means we're overdue to recognize Kevin Twine for the decade or more of helpful messages and in some cases, active intercession, to solve problems first aired on the Cleveland Park Listserv.
My archives search for "Kevin Twine" revealed that the first mention of his name on this site came on March 6, 2009 (message
#53573
] when a list member tagged him as the person at DPW who helped her with her missed recycling pickup. In all, there were 189 pages of results to my search, displaying 20 results per page. That's 3,780 messages, almost all of which fell into one of these three categories:
DPW announcements from Kevin Twine about holiday schedule changes (you could count on him to remind you of the "trash slide"), along with other alerts, tips, and "news you can use."
Helpful replies to messages from list members asking about DPW work, or more often, reporting on DPW mistakes that needed to be fixed.
Compliments from list members to Kevin Twine for his timely and effective response to a problem and/or recommendations that others get in touch with him if they need help with a DPW problem in future.
That's quite a record! I can't recall any other city official so good at communicating with people, or so effective in getting things done. It's not just that he responded quickly to complaints and so often arranged for the desired outcome, but that he was so honest and open about what was happening along the way. His messages were usually free of the expected bureaucrat-ese, unmarred by defensiveness or the impulse to obfuscate when his department had screwed up. I've hardly seen anything like that from a government spokesperson at any level. Even better, he remained calm and polite, often in the face of a list member ranting rudely about DPW's incompetence. You can bet that's a tough stance to stick to. But Kevin's posts were always a model of respectful writing and to-the-point responsiveness.
I never met him but how I miss him! And I do hope he's gone on to higher and better things where his talents are compensated at the level he deserved. I know this comes too late for you as a DPW employee, but Kevin, wherever you are, I'm sending you a CP Listserv "Poster of the Decade" award.
And to DPW, please find us another Kevin -- or at least someone who is able to tie up loose ends like Twine!
---------------------