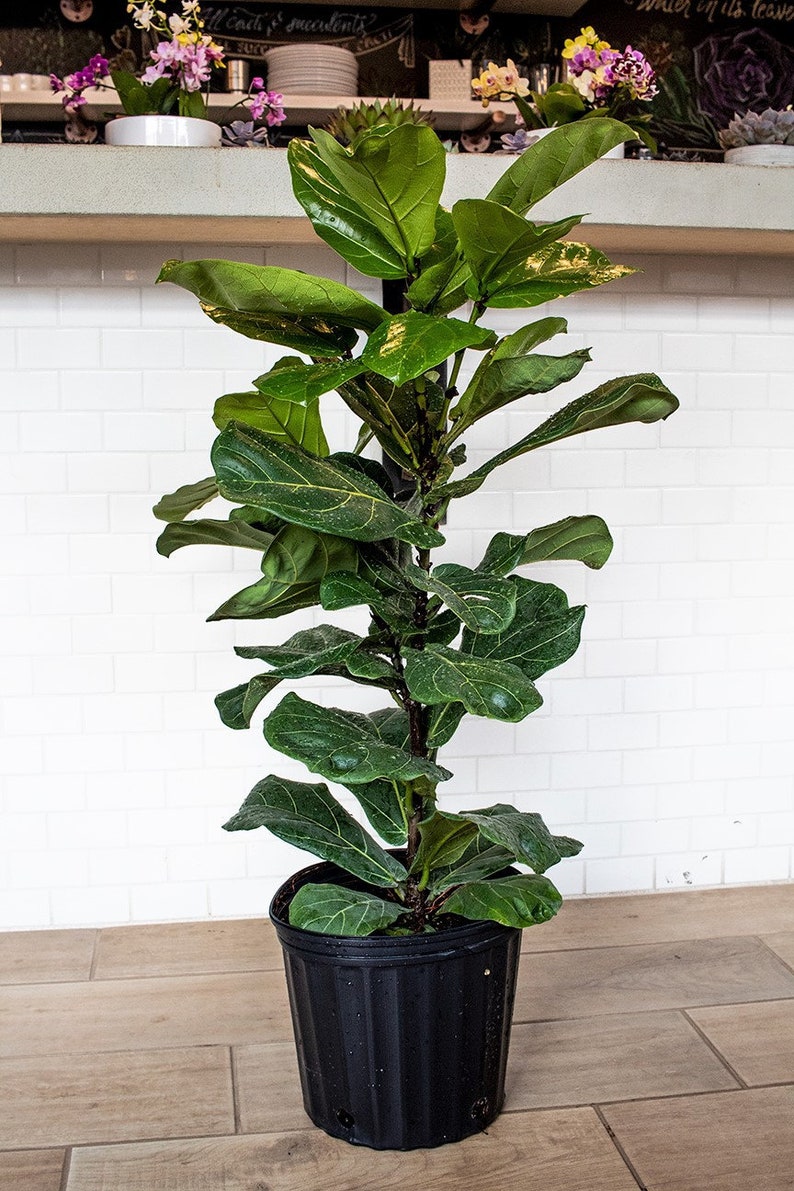 Take this fiddle leaf tree....please!
It's hard to find the good in The Time of Coronavirus, but one thing I've noticed is that people are doing a LOT of housecleaning. And now more than ever, instead of trashing their unwanted goods, they are giving them away.
The explosion of the #free hashtag on the CP listserv started a few weeks before the April 1 official start of the emergency stay-at-home order. In twenty-plus years of moderating the listserv, I've never seen anything like it. Not just the quantity of goods given away, but the quality! We used to get a lot of heavy, old-style TVs – hard to find anyone who'd want them. And printers….people used to post: "It jams, but if you're good with electronics, maybe you could fix it." That's not really a generous act

– it's more like a way to get someone to remove your old junk for free. We all know it's likely to be cheaper to buy a brand new printer than to restock an old one with an ink cartridge – that's assuming, of course that you can get it unjammed.
But there's been very little of that in the giveaway boom still underway. The last time a printer was donated (May 20), it was not only working fine, but it did high quality photo printing, too. And someone else gave away a printer/scanner/copier. Nothing wrong with that one, either.
I just made a quick survey of everything posted under the hashtag #free since the last week of March (that's when I first noticed the big upswing in giveaways). Just take a look at the bonanza of stuff!
Easy chair; dining table; Ikea shelves; glass shelves; desks (at least two); end tables; clothing rack; sleep sofa; rocking chair; chest of drawers
Loft bunk bed; king bed frame; full bed complete with headboard, mattress, and box spring; twin mattress; trundle bed; twin XL sheets; memory-foam mattress topper; 4-poster queen bed frame
Baby/Toddler/Children's Items
Bags of baby items; 6-9 month clothing; play table; children's chairs; wooden blocks; Fisher-Price toys; bags of Beanie Babies; doll furniture; puzzles & board games; crib mobile; umbrella stroller; Citi-mini stroller; Bob jogger; set of baby monitors; baby beach tent
Flagstones; a whole irrigation system; firewood; irises; fiddle leaf tree (needs care); mature holly bushes; hanging plant pots; cachepots; oregano plants; gas powered lawn mower (could use some work); push mower; rain barrel; fish for a fish pond
Office Supplies and Office Furniture
Three filing cabinets; office desk chair; boxes of office supplies; photo paper; toner cartridges; more boxes of office supplies
TVs; Blu-ray disc player; VHS player; turntable; lamps; toaster; laptop; 2 computer monitors; Xbox 360; Playstation 3; photo printer; printer/scanner/fax/copier combo; Technics speakers;
Artwork, Books, Records & Media
Framed original art; foam-core mounted art; framed art posters; books and books galore; magazines; vinyl records; CDs and CD racks; VHS tapes (and yes, someone wanted them!)
Dog food; cat food; specialized pet food; dog bed; dog crate; faux sheepskin for dog bed; kitty litter
Chin-up bar; cross country skis; girl's bike; kid's bike with training wheels; child bike seat; bike rack; toddler slide; sandbox with cover; Little Tikes playset; golf clubs (left-handed set); bocce balls; hula hoops; sled; foosball table; air hockey table; old tent (good for play, not camping)
Subway tiles; walker; mylar balloons; piano music; hearing aid batteries; luggage; rugs; bankers boxes; pleated air filters; fabric remnants & sequins; crafting supplies; microwave popcorn popper; juicer; knife block with knives; stick vacuum; styrofoam coolers, reusable ice packs; Subaru floor mats; vases galore; all sorts of picture frames; boxes of kitchen supplies; crockpot; muffin tins; Rubbermaid garbage cans; moving boxes and packing supplies out the wazoo!
If you've been inspired by any of the great giveaways above and are thinking you will do likewise and clear out some things, what I'm about to say may surprise you: You may not want to give them to random claimants on the listserv. Just yesterday, someone proposed a wonderful alternative: If you've got good quality clothing and household items, ask the Department of Human Services if they can use them at any of their short-term family residence buildings. A new one, called The Brooks, opened up in Ward Three just a couple of months ago.

Here's the contact information for the DHS official who can follow-up and arrange for a pickup of your items, if they fit the bill:
scott.sibley@dc.gov [scott.sibley @ dc dot gov]
What about things that you're not sure are wanted anywhere? Like some of the items listed above: the sequins, for example, or the mylar balloons. What about those bocce balls? Or the "faux sheepskin" for a dog bed? (Is it true that a Cleveland Park dog will only sleep on a REAL sheepskin bed?) Want to find out if there's a home out there for your unusual giveaway item? Just send it to clevelandpark@groups.io – and be sure to give it the hashtag #free. You'll soon find out!
------------------------