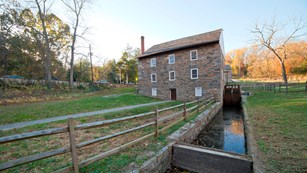 Peirce Mill in Rock Creek Park - National Park Service
by Peggy Robin
The "Get Out" column for this week has just one event – but it's something that anyone can do – keeping socially distant from all others – or do it in "pods" or family members/prescreened friends. It's fun for all ages, and it includes its own rewarding sights. And of course, it's FREE!
It the DC Historical Society's Scavenger Hunt: https://bit.ly/39F2qgN
It's the simplest of games. Click on the link and you will get to the Scavenger Hunt game page. Fill in the name of your neighborhood and then scroll down to see a list of ten things you will set out to find. You can go out to find them in eight different walks or try to find them all in one walking adventure.
The first thing is "Find a view of a major DC Landmark." The landmark that's easiest to spot from within Cleveland Park is the National Cathedral. But the Basilica of the National Shrine of the Immaculate Conception is also on the list – and if you're in the right spot (that is, at the end of Ashley Terrace, at the top of the "secret stairs" that lead down to 30th Street, and you are looking out over the city on a clear day, the dome of the Basilica all the way over on Michigan Avenue in Northeast DC, can easily be seen from Cleveland Park.
No more hints!
The other nine things to find in your neighborhood are:
A national park.
The street naming pattern – and name three streets that fit the pattern.
An old building that was built for one use, now repurposed to be something else.
A historical marker, plaque, sign, or statue.
Two houses or buildings side by side that exemplify two different styles of architecture. (In eclectic Cleveland Park, there's probably a street with three or four houses side by side, each in a different style.)
Wildlife. The Scavenger Hunt says you should find a bird, a rabbit, a squirrel, a deer, or a fox – but if you spotted a raccoon or a coyote, that would certainly count!
A Metro station, bus stop, or trolley stop.
A place where you can listen to music. It could be a concert venue, a church, a pub, or even a street corner where someone's playing an instrument.
Something in the neighborhood you've always wondered about. When you submit your final results, you will be posting the "What is this?" entry for others to identify and explain. And you will be able to view what others have posted as their mystery place or objects, and see if you can shed light on what it is.
You can also share your results on your social media pages and tag the DC Historical Society's Twitter, Instagram or Facebook https://www.facebook.com/dchistory
Don't forget to wear your mask while you are out on your scavenger hunt! In some far-flung future, you can bet that one of the instructions people on scavenger hunts will receive is this: "Find a face mask from the great Coronavirus pandemic of 2020."
This will be something that your children will one day be telling their grandchildren about…..
------------------------------
The "Get Out!" column is published on the Cleveland ParkListserv and on All Life Is Local on Thursdays.