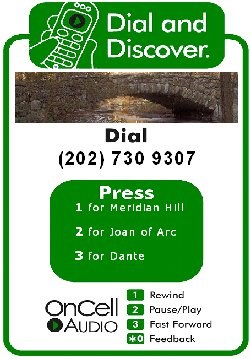 by Peggy Robin
This week's highlighted event is not tied to a specific date and time - it's an ongoing thing - but today or anytime this weekend, when the weather is perfect for a walk in the woods, you can enjoy a free,
guided tour
of the park on your cell phone as you stroll.
You don't even need a smartphone or any device that can download an app -- just look for the "Dial and Discover" signs along your walk at any of a dozen National Park Service sites listed below, and call 202-730-9307 to listen to the recorded information as you walk.

Your phone provides a fun way to learn more about Rock Creek Park. You can listen to a park ranger give a two-minute narration on various aspects of the park.

When visiting Rock Creek Park you can listen to these narrations at numerous points of interest in Washington DC. Just look for the "Dial and Discover" signs, call 202-730-9307, and enter the stop number. Since this is a phone tour, you can be anywhere in Washington where there is cell phone coverage to listen to the messages. Feel free to stroll along as you listen, then stop and enjoy the view to reflect on what you have just learned.

There is no additional charge to listen to these messages. Please be aware that cell phone coverage in Rock Creek Park can be spotty and not all providers offer service in the park.

We are very interested in hearing your feedback about this audio tour and we encourage you to leave a message about your experience with this program. You can do this by pressing *0 on your cell phone at anytime while listening to any portion of your tour.

Here are some helpful instructions when you are listening to these audio tours:

Press 1 to Rewind

Press 2 to Pause/Play

Press 3 to Fast Forward

Press # to Stop

Press *0 to Leave Comments

If you would like to listen to the Park Ranger Audio Tours while at home, here is a list of tour numbers.

After dialing (202) 730-9307

1. Meridian Hill Park

2. Joan of Arc Statue

3. Dante Statue

4. Buchanan Statue

5. Serenity Statue

6. Ashbury Statue

7. Marconi Statue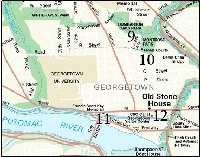 ----------