by Peggy Robin
Following a full week of intense debate on the listserv over whether to allow a big increase in residential density along Connecticut Avenue in Cleveland Park -- one thing emerged as a point of agreement: taht we want to do what we can to increase the viability of our neighborhood businesses. There may not have been any consensus about how to bring about that end, but it did seem to be something we all called a public good.
With that in mind, I thought this week's highlighted event for the weekly events column was a good choice: It's Mayor Muriel Bowser's designation of Sunday, February 21, 2021 as "Business Story Day."
You can listen to community business leaders telling stories of how they got started in business and how they made it work. (Good thing they haven't been asked to tell any stories about how it went getting zoning approval to open a new business in DC!)
Here's your official invitation from the Mayor:
Business Story Day Official Proclamation Celebration
About this Event
GO Global is pleased to invite you to the virtual celebration for Washington, DC Mayor Bowser proclaiming Sunday, February 21, 2021, as "Business Story Day" in Washington, DC.
The event will feature community business leaders sharing their business stories and will also provide ideas on how businesses in the district can use their own stories as a tool for building a strong inclusive local economy.
Sun, February 21, 2021
3:00 PM – 4:30 PM EST
https://www.eventbrite.com/e/business-story-day-official-proclamation-celebration-tickets-140007108029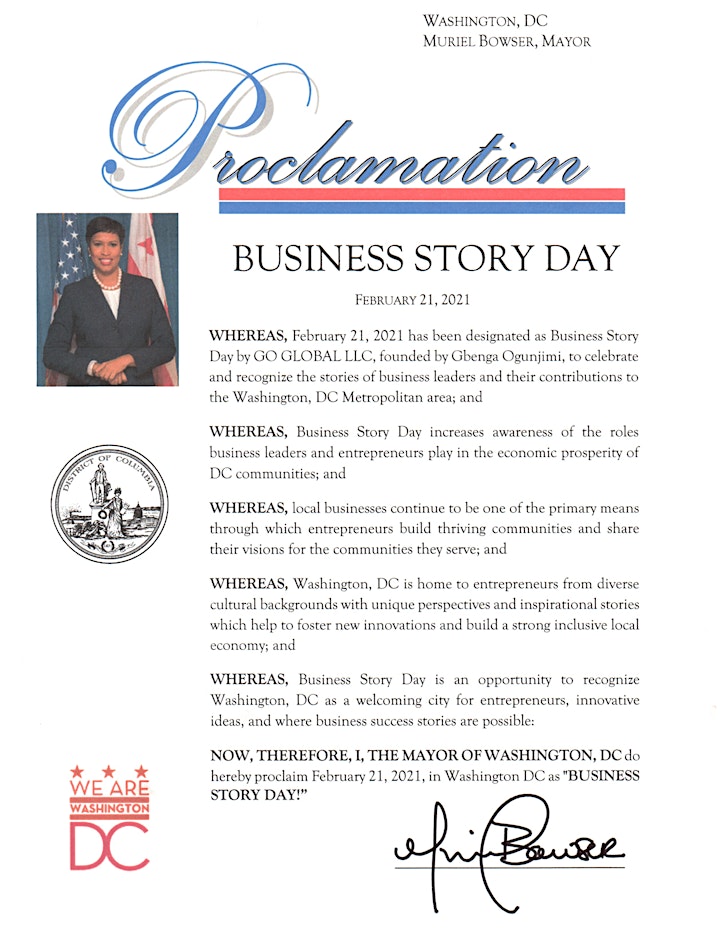 The "Stay In!" or "Get Out!" events column is published on the
Cleveland Park Listserv
and on All Life Is Local on Thursdays.