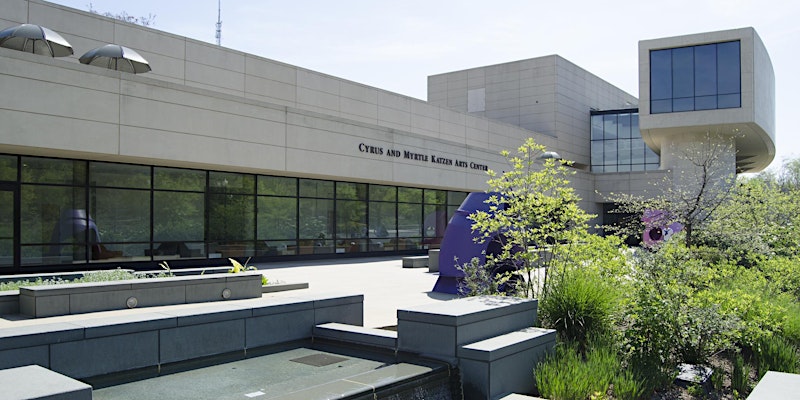 Good news keeps coming. The Zoo is open. The cicadas are singing! And AU's art museum has reopened and is welcoming neighbors with timed entry passes - all free.
Here's the what, where, and how. If you need the why, you'll get it when you visit the exhibits.
The American University Museum at the Katzen Arts Center has reopened to the public and welcomes back patrons and neighbors with limited hours on Tuesdays and Thursdays.
Visitors may reserve timed tickets now for June. They will receive a health and safety form via email 24 hours prior to the visit. To enter the museum, visitors must agree to AU's health and safety guidelines, including wearing a mask throughout the visit and maintaining physical distance.
The three exhibitions now on view are:
Peace Corps at 60: Inside the Volunteer Experience

brings the world home through the stories and objects of 30 individuals, representing a sampling of the 240,000 people who have volunteered their service. The exhibition, commemorating the 60th anniversary of the Peace Corps, spotlights cross-cultural understanding as nations and people around the world are undergoing major economic, social, and migratory change. The exhibition invites viewers to understand what volunteers and host communities experience together. Objects on view include clothing, musical instruments and items used in food preparation in host countries.
Raya Bodnarchuk: This is a True Picture of How it Was

exhibits 1,926 works of gouache and ink paintings shown together for the first time. Through her long career, Bodnarchuk has never wavered in the pursuit of her craft or commitment to mentoring the next generation of artists. Best known for her sculpture, collage and silkscreens, this exhibit began as advice to her students to "Do something you love every day" and evolved into a brilliant chronicle of six years of her life beginning in 2013 and concluding in 2019.
The Long Sixties: Washington Paintings in the Watkins and Corcoran Legacy Collections, 1957-1982

is a survey of paintings by Washington artists that tells the story of political engagement (or lack thereof) in the arts during the "long" 1960s. Curated by AU Museum Director and Curator Jack Rasmussen, the exhibit contains selected paintings that draw upon memories of what Rasmussen calls "a formative time" in his life. The narrative addresses the history of systemic racism and sexism in the arts, and its enduring impact on the art shown in museums today. It also emphasizes the need for politically engaged art through the present day. "My perspective includes the acknowledgement of persistent, systemic gender and racial injustice, bias, and violence that was present in the '50s, laid bare in the '60s, and continues to the present day," Rasmussen said. "It is clear to me that the defining characteristic of most white mainstream art made between 1957 and 1982 in Washington was an adherence to aesthetic and commercial constraints that encouraged artists to remain silent when their voices are most needed. What pushback there was against this tendency was led by Black and women artists, whose work has been systematically underrepresented in the collections of Washington museums." All current exhibits also may be experienced virtually online.
Free timed tickets are now available for Tuesdays and Thursdays in June,

10:30 a.m.-12 p.m. and 1:00-2:30 p.m. Each visitor must register individually, and tickets are non-transferable.
4400 Massachusetts Avenue NW
Washington, DC 20016-8031