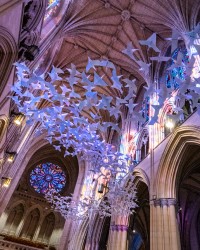 The Doves
Art Installation by Michael Pendry
by Peggy Robin

Now that the "Get Out" column is back to announcement in-person events, choosing one event each week to highlight, we've come to our first real dilemma: which of two magnificent exhibits to feature?

Not a hard question to answer! Both! One is in the neighborhood and the other is downtown. One is here for a few more weeks, while the other is ending this weekend. At both, attendance is limited so that social distancing can be maintained -- which means you'll want to reserve your tickets now, to be guaranteed a space.

The first is "The Doves" at the Washington National Cathedral.

"The Doves" ("Les Colombes")
SEE THE DOVES (IN PERSON)!
Daytime Exhibit Walk
Immerse yourself in Michael Pendry's "Les Colombes" (the Doves), an art installation symbolizing hope and the Holy Spirit. In this exhibit experience, walk beneath a cascading column of 2,000 origami doves and watch as the rainbow light from the Cathedral's stained glass elevates folded paper into something transcendent. Tickets ($10) are available for certain days each week, 11 am to 7:30 pm (visitors may come any time during open hours), now through July 28, 2021: https://bit.ly/3hsC3QI

COVID-19 Policies:
Please note that by reserving a ticket, you agree to comply with our COVID-19 policies. The Cathedral adheres to all current District of Columbia COVID-19 safety guidelines.
- Masks must be properly worn (covering both mouth and nose) while inside the Cathedral
- Maintain 6 ft (2 m) of social distance from those not in your household
- Your ticket is for viewing the exhibit only; the rest of the Cathedral remains closed to visitors

....And if you can't make it in person, you can see it in the artist's video here:
https://www.youtube.com/watch?v=3wRss0vQqZU
~~~~
My other "don't miss" recommended art exhibition is at the National Museum of Women in the Arts: "Her Flag" – now in its final weekend.

The museum has partnered with Her Flag, a nationwide art and travel project created by artist Marilyn Artus. Her Flag marks the 100th-anniversary year of the passage of the 19th Amendment, which enshrined women's right to vote within the text of the U.S. Constitution. Artus collaborated with a group of contemporary women artists—one from each of the 36 states that ratified the 19th Amendment by 1920—in order to create the large flag that has been installed on the exterior of the museum's façade along New York Avenue.

Each participating artist created imagery inspired by both the anniversary and her home state. Artus then adapted each artwork into a stripe on the flag. The artists represent diverse ages and ethnicities, and they explored a variety of themes and subjects. Many artists depicted notable women from the suffrage and civil rights movements in their works. Others created scenes that reference the fact that the 19th Amendment did not, in fact, ensure that all women had access to the ballot box. Struggles faced by Native American, Asian American, Latinx, and African American women lasted well beyond 1920, and some continue today. Several stripes incorporate portraits of contemporary women and girls, highlighting the legacy of the suffrage movement in today's social justice activism.

For more information about this project visit the Her Flag website, Instagram, and Facebook accounts.

Exhibition Hours:
Monday to Saturday 10 am to 5 pm; Sunday 12 to 5 pm
Tickets
Adult $10
Adult 65+ $8
Students $8
Youth 18 and Under Free
Members Free
Military Free

The Museum Shop and Mezzanine Café are closed for renovation. Hours are subject to change. Check the Plan Your Visit page for updates.
National Museum of Women in the Arts
1250 New York Ave., NW Washington, DC 20005
202-783-5000 1-800-222-7270
-------------
The "Get Out" events column is published on the Cleveland Park Listserv and on All Life Is Local on Thursdays.