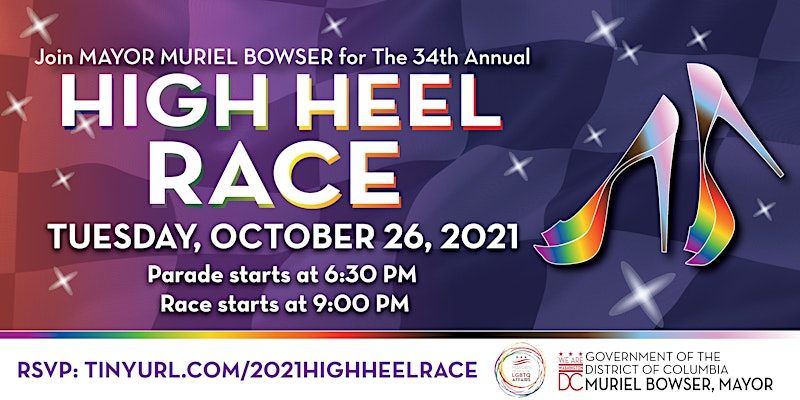 I think this is good news. The annual pre-Halloween High Heel Race in Dupont Circle is back on this year. Always happy to hear that people are finding ways to enjoy the holidays. Even though covid has not gone away, an outdoor race is pretty safe, even if there are large crowds, as long as the crowds are masked.

Here's the part that's not good news – the part that's not safe. Running in stiletto heels. That's just nuts. I don't care how practiced you are at it – it's a fine way to break an ankle. And yet hundreds have enthusiastically raced in super-high heels – five or six inches, and with platforms, going up to even eight to twelve inches. For 34 straight years! Here are some examples:
https://www.aliexpress.com/item/4000703445951.html
https://www.dollskill.com/pleaser-showgirl-sizzle-platform-heels.html
https://amzn.to/3m81R79

I don't mind watching a high-wire act, even though I know it's dangerous. It's dazzling, breathtaking. But you know the people are professional aerial artists who have been practicing their craft for years. The runners in the High Heel Race, on the other hand, are mostly amateurs. Anyone can sign up. I don't know what the injury rates are…..and I don't want to know. I'm the mom who told my kids not to climb trees because they'd fall on their heads. They did it anyway, and never fell. But I hated to watch.

Still, if this is your thing, more power to you. It's great that this Old Dupont Halloween Tradition is back with all its mock scariness and in this case, a certain amount of real danger.

If you just want to watch grown-ups in outrageous outfits running as fast as they possibly can in outfits suited only for a languorous stroll, here's all the info you need:

OCT 26 – The 2021 Annual 17th Street High Heel Race!
by Executive Office of the Mayor
Free
Mayor Muriel Bowser is proud to present the District's 34th Annual 17th Street High Heel Race
You're invited to join Mayor Muriel Bowser and The Mayor's Office of LGBTQ Affairs for the District's 34th Annual 17th Street High Heel Race hosted the Tuesday before Halloween.
The High Heel Race is one of DC's most unique events with a rich history. Join in as thousands of spectators pack the Dupont Circle Neighborhood to watch hundreds of costumed drag queens show off their extravagant outfits & race down 17th Street, NW. The event will be lively with entertainment, a parade, and much more!
Tuesday, October 26, 2021
6:30 PM – 9:00 PM EDT
17th Street, between P and S Streets NW near Dupont Circle
Washington, DC 20009
Parade Begins: 6:30 p.m
Race Time: Begins at 9:00 p.m
#17thStreetHighHeelRace #DCisOpen
Twitter: @DCLGBTQ | Instagram: @DCLGBTQ |Facebook: www.facebook.com/dclgbtq

RSVP: http://tinyurl.com/2021highheelrace
-----------
Still Life with Robin is posted on the Cleveland Park Listserv and on All Life Is Local on Saturdays.