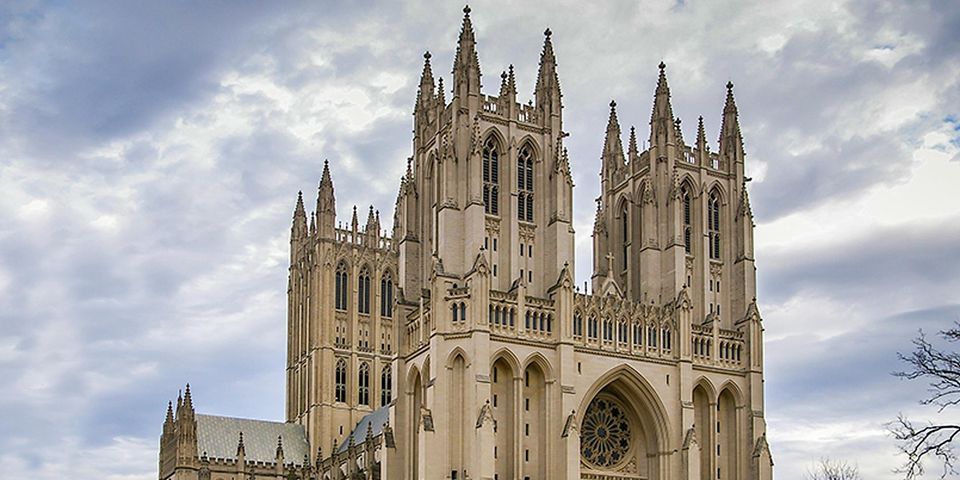 If you live within the sound of the bells at the National Cathedral, you don't need to get out to "attend" the event selected for the "Get Out!" column event of the week. Just listen to the "full peal" that bell ringers will be attempting at the National Cathedral on New Year's Day. The bell-ringing could last more than three hours.
https://www.bells.org/event/full-peal-attempt-washington-national-cathedral
New Year's Day

Jan. 1, 2023 | 12:30-3:30pm (Eastern)

Washington National Cathedral

3101 Wisconsin Ave. NW

Washington, D.C. 20016

Bask in a cacophony of sound as the grand bells of Washington National Cathedral erupt overhead. Members of the Washington Ringing Society will attempt a full peal on the Cathedral's 10-bell ring following the 11:15am service. If the peal attempt is successful, the ringing will last between 3 and 3.5 hours, or 5,040 changes, from start to finish.

Anywhere on the Cathedral grounds will be a wonderful place to hear the bells. We recommend finding a cozy perch in the Bishop's Garden! Stroll among the garden paths, find a comfortable seat tucked into a stone wall, or spread a blanket for a tasty picnic as the bells ring out above.


Heading inside the Cathedral?
Washington National Cathedral continues to be an active place for worship, sightseeing, programs, and restoration. If you would like to tour inside the Cathedral, you may be asked to purchase a sightseeing ticket for entry. More information may be found on the Cathedral's website.

Meet the Ringers: Washington Ringing Society
In early 1983, the Cathedral Ringing Society, which had been founded in October 1963 after the installation of the Cathedral bells, was renamed and reorganized as The Washington Ringing Society in recognition of the new bells installed at the Old Post Office Tower.
The organization is based in Washington, D.C. and is dedicated to the study, practice, and promotion of English change ringing. Members range in age from 15 to 80 and come from many different walks of life, including teachers, computer programmers, lawyers, students, doctors, archivists, and musicians. All are bell enthusiasts! Want to learn more? Explore the history and mission of Washington Ringing Society.

Two More Bell Ringing Events on New Year's Day:
NATIONAL BELL FESTIVAL CONCERT: VIRGINIA BRONZE
January 1, 2023 @ 3:30 Pm
-
4:15 Pm
St John's Church on Lafayette Square
Ring in the New Year with the scintillating harmonies of Virginia Bronze – festival favorites and the region's premier handbell ensemble. Across hundreds of bronze bells, expect rich acoustics and soul-stirring melodies as the 16-member ensemble performs new and beloved pieces.
Each performance by Virginia Bronze is characterized by thoughtful musical selections and fascinating insights into the world of handbells.
"The British are coming!"
What music will you hear this New Year's Day? We've curated a wonderful program themed to our 2023 spotlight nation: the United Kingdom. You'll be treated to familiar British favorites, as well as captivating new pieces selected especially for the occasion.
Suspended above it all is the 200-year-old bell within St. John's steeple, cast by the son of one of America's legendary founding fathers – Paul Revere – whose swift midnight ride gave advanced notice to patriots of the approaching British forces.
History and faith ring to life at St. John's:
From its organization as a parish in 1815 until today, St. John's Church has been a powerful symbol of faith in the heart of our nation's capital. St. John's was designed at a stately location directly in front of the White House by noted architect Benjamin Henry Latrobe. Perched above this 'church of the presidents' rings a bell of historical significance.
The bell in St. John's steeple weighs nearly 1,000 lbs. It was cast by Paul Revere's son, Joseph, at his Boston foundry in August 1822, and installed November 30, 1822. President James Monroe authorized a $100 contribution of public funds toward its purchase, as it also served as an alarm bell for the neighborhoods and public buildings in the vicinity of the church.
St. John's bell is one of two Revere bells in Washington, both cast and installed in churches during 1822. However, of the two, St. John's bell is the only one that has been in continuous service since its installation.
https://stjohns-dc.org/event/national-bell-festival-concert-virginia-bronze/
160 Tolls for 160 Years: Tribute to the Emancipation Proclamation

Sun, January 1, 2023, 2:30 PM – 3:00 PM EST:
On the Steps of the Lincoln Memorial
This New Year's Day marks the 160th anniversary of the Emancipation Proclamation – that momentous document issued on Jan. 1, 1863, that liberated people held in bondage in rebel states. To mark this occasion and to reflect on 160 years of civil rights progress, the National Bell Festival invites bells to resolutely toll 160 times.
Leading this bell ringing tribute will be Campaign Cabinet members of the National Bell Festival's new bell tower project to be announced on New Year's Day. Sixteen individuals will each toll a special bell 10 times, amounting to 160 distinct tolls. With each reverberation, we get nearer the promise of our Declaration of Independence, that all men are created equal – a potential, even now, not fully realized.
This special bell ringing tribute will resound at the foot of the Lincoln Memorial. Festivalgoers are invited to gather on the steps of the Memorial and the adjacent Reflecting Pool to listen as we pay tribute to 160 years of history.

Listen to an abridged reading of the Emancipation Proclamation.

Hear a bronze bell, cast in 1863, ring out over the Reflecting Pool.

Enjoy a surprise appearance by special guests.

Be the first to hear about a new bell tower planned for Washington.
This event forms part of the annual National Bell Festival on New Year's Day. Learn more and see the complete line-up of free events and experiences at: Bells.org/Events
The "Get Out!" event of the week is posted on the Cleveland Park Listserv and on All Life Is Local on Thursdays.