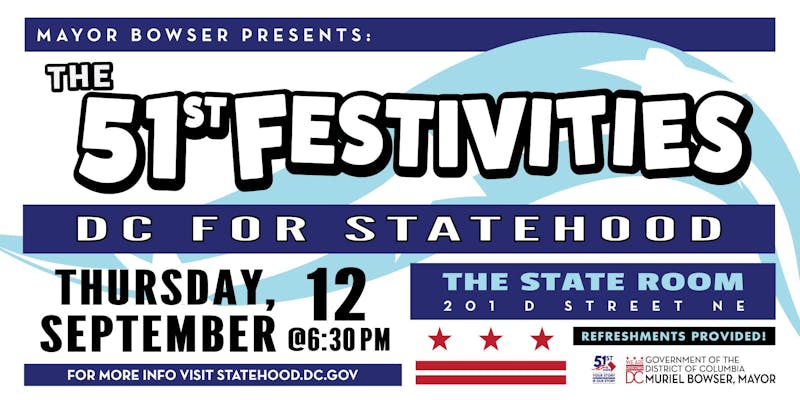 We wanted to share some events and activities that we thought would be of interest to list members. Have a great weekend -- and week beyond, too. If you know of an event that the 18,400+ members of the Cleveland Park Listserv should know about, please email us at events @ fastmail dot net.
Peggy Robin and Bill Adler
Publishers, Cleveland Park Listserv
www.cleveland-park.com
Friday September 6 from 6 - 8 PM, First Friday: Food As An Art!
Local food distributor, Neek & Nan's is bringing their Fresh Seasonings and Sauces to the Heurich House Museum for First Friday Dupont (see
https://washington.org/event/first-friday-dupont
for other free events in the First Friday monthly program for participating museums and galleries around Dupont Circle). Guest are invited to shop locally made food and create their own food art with colored pencils, markers, and collage paper. The Heurich Museum's doors will be open for guests to explore the family home of DC's most successful brewer, Christian Heurich, and learn more about his historic brewery in the exhibit HOME/BREWED: How the Chr. Heurich Brewing Co. Witnessed DC History. This is event is free and open to the public. Local beer will be on tap and snacks will be available for purchase. The Castle Garden will be open weather permitting. Heurich House Museum is at 1307 New Hampshire Avenue NW. More info:
http://heurichhouse.org/events/2019/9/6/first-friday-food-as-an-art
Saturday, September 7 at 11 AM, Sing Talk and Read (STAR) Family Festival
at Deanwood Library. This event, hosted in partnership with the Department of Parks and Recreation, will celebrate the importance of early literacy and how parents can help their child prepare for kindergarten. The Deanwood Library and Recreation Center will be transformed into a play space where families can participate in a number of early literacy activities, enjoy live performances, and interact with community partners. This year's festival will feature performances by Latin Grammy Award-winning 123 Andrés and Christina, Pacific Rhythm - Polynesian Entertainment, and a special station honoring Books from Birth program graduates. Additionally, the first 300 guests will receive a copy of Sing With Me DC: A book of nursery rhymes for children from DC Public Library, illustrated by DC artist Carlos Carmonamedina. Guests will also have an opportunity to interact with DC's incredible community of support behind early education. Free. At Deanwood Library, 1350 49th St. NE,
https://www.dclibrary.org/starfestival
Saturday, September 7 from 5 - 7 PM, Concert at Forest Hills Park
, featuring Grammy-nominated (for a children's recording) progressive hip hop artist Christylez Bacon with violinist Karin Kelleher opening the show. Come join us at the amphitheater - the closest entrance is from the 3200 block of Brandywine. Armand's Pizza will be on sale - cash only. For updates and more info, go to:
https://www.facebook.com/ForestHillsPlayground/
Saturday, September 7 from 5 - 8 PM, Opening Reception for the exhibit Fictive Certainties
, featuring photography by Ginevra Shay and María Tinaut. The exhibit runs from September 7 - Oct 5. Free. De Novo Gallery is at 1287 4th St. NE,
https://www.denovo-gallery.com/events/fictivecertaintiesopening
Saturday,September 7 from 6 - 8:30 PM, The 3rd Annual FREE Turtle Park Jazz Project
, presented by Friends of Friendship "Turtle" Park. Join FOFP for an evening of fabulous music and lots of fun! Bring a picnic or buy dinner from the variety of food trucks we'll have on hand and don't forget your blanket or lawn chair! Schedule of performers: 6 PM, Musicians from Middle C Music; 6:40: The Michael Sweeney Experience: A Motown Journey. Friendship "Turtle" Park is at 45th and Van Ness Streets NW. More info:
www.TurtlePark.org
Sunday, September 8 from 12:30 - 6:30 PM, The 14th Annual Interfaith Unity Walk and Resource Fair
, 2019. Over 1000 people of all faiths and backgrounds will come together on one day to celebrate the diversity of our region, to visit houses of worship, and most importantly, to listen to each other and ask questions of each other. "Now is the time for us all to come together and to publicly declare that this is a no hate zone and to unite around our shared humanity." Register at:
http://bit.ly/2k0Bjro
. Registration is free, but if you would like to donate, the suggestion is $25 for the general public and $15 for seniors and students -- but all donations are thankfully welcomed. Schedule: Check-in/walk-in registration and resource fair is from 12:30-1:30pm. Opening Ceremony from 1:30-2pm, Closing Ceremony from 5-5:30pm. This year, in celebration of the 150th anniversary of Mahatma Gandhi's birth, there will be a gathering from 6-6:30pm at the Mahatma Gandhi Memorial near Dupont Circle. Check-in, the resource fair, and the opening ceremony are at Washington Hebrew Congregation, 3935 Macomb St NW. Ten houses of worship will be along the walk, each one having its own programming, demonstration of rituals, tour of the building, offering of traditional foods, and introduction to the religion and its practices. Click on the link below for updates and information about programs and service projects for this year's walk:
https://ifcmw.org/programs/unity-walk/unity-walk-faq/
. Click below to sign up for this year's pre-walk storytelling workshop and community picnic:
https://ifcmw.org/storytelling-workshop-and-community-picnic/
Sunday, September 8 from 11 AM - 7 PM, DC State Fair.
The DC State Fair is a free showcase of the District's agricultural, culinary and creative talents and a daylong celebration of all things homegrown. While the DC State Fair is inspired by time-honored state fair traditions—growing and gardening, animal husbandry, and deep-fried foods—it also honors the things that make the District of Columbia unique. This means the DC State Fair holds competitions to find the tastiest mumbo sauce, best honey, and most creative hula hoopers in the city; puts on a Pet Parade instead of a pig race; and works with local businesses and organizations that are committed to helping our community thrive. The event will have a new location at Gateway DC, an innovative and unique state-of-the-art park and pavilion in the heart of St. Elizabeths East Campus. Gateway DC is located at 2700 Martin Luther King, Jr. Avenue SE. Plan ahead: pack a reusable water bottle, reusable cutlery and a shopping bag. Help the Fair be more sustainable. Free. Register
https://www.eventbrite.com/e/2019-dc-state-fair-tickets-65253292354
Sunday, September 8 from 12 noon - 6 PM, Adams Morgan Day
- celebrating our 41st year in 2019! Adams Morgan Day is a family-friendly celebration with music, art and activities for all ages. Attendance and entertainment are free, and local businesses and restaurants offer deals for the day.Enjoy music all day on our two stages at Columbia Rd and Marie Reed Plaza, catch the shows at the DCPL Performance Tent on 18th and Belmont, boogie with us on the Dance Plaza at 18th and Kalorama, or soak in some performance art in Artist's Alley! Family Fun Zone on the Marie Reed Grounds and Soccer Field. More about events, performers, vendors, and neighborhood businesses at:
https://www.admoday.com/
Monday, September 9 at 12 noon, Lecture: Spies in the Civil War
. Join Vince Houghton, historian and curator at the International Spy Museum, to uncover the hidden world of spies during the Civil War. Home to many southern sympathizers, Washington, DC, was a hotbed for covert activity by the Confederacy. After the presentation, there will be time for discussion and debate. Free; no reservations required. Bring your lunch and enjoy a cup of coffee on us. At The George Washington University Museum and The Textile Museum, 701 21st Street, NW,
https://museum.gwu.edu/civil-war-spies
Monday, September 9 at 4 PM, Harry Potter Movie Night
. Join us for a special screening of Harry Potter and the Chamber of Secrets. Enjoy a themed snack and learn about our special Harry Potter Night. All month long come check out our Harry Potter decorations and enjoy fun activities like a quiz and scavenger hunt. Free. At Cleveland Park Library, 3310 Connecticut Ave. NW,
https://www.dclibrary.org/node/64954
Monday, September 9 at 6 PM, Group Apparition Spell to Deliver Banned Harry Potter Books to Schoolchildren in Nashville, TN
. Perhaps you have read about the children at St. Edwards School in Nashville, whose principal has removed all Harry Potter books from the school's library on the grounds that they
promote the practice of witchcraft
. If you or your children want to help these deprived Tennessee schoolchildren recover the lost magic of Harry Potter, then come to this group apparition ceremony at the Cleveland Park Library, just after the end of Harry Potter Movie Night (or stick around, if you've been there for the movie), and we will assemble over a stack of Harry Potter books and use the apparition spell in the attempt to make them disapparate from Cleveland Park and apparate into the St. Edwards School Library. We especially invite anyone with experience and success in using this spell to join us. We will supply the complete set of Harry Potter books to be delivered magically to the target address. Children must have parental permission to participate in this magic feat. Please be sure to have your parents sign the online parental consent form at
http://bit.ly/cpfakeevent
before attending.
Monday, September 9 at 6:30 PM, Civil Rights Activism and the Barry Farm/Hillsdale Community
. In the 1950s and '60s, Barry Farm/Hillsdale's residents—in particular residents of Barry Farm Dwellings—were in the forefront of Civil Rights activism in Washington, DC. Museum curator and author Alcione M. Amos will lecture on the history of this period when parents in the community were active in the fight to integrate schools in Washington, DC and residents of Barry Farm Dwellings were organizing themselves, with the help of the Southeast Neighborhood House, to defy the oppression of the welfare system and to create new opportunities for neighborhood youth. This program is presented in conjunction with the exhibition A Right To The City and in partnership with DC Public Library. Please RSVP at
http://bit.ly/2ltHODo
. Free. At Anacostia Library, 1800 Good Hope Road SE,
https://www.dclibrary.org/node/64405
Tuesday, September 10 from 5:30 - 6:30 PM, Open House for Free Youth Music Program
. Join us for a free event for children grades 3 through 12. The Music Program at Pilgrim Lutheran Church is accepting new children for its Junior Choir, for children grades 3 through 8, and Teen Ensemble, grades 9 through 12. The program is free to families of the DC metro area and is designed to expand a child's love for music through a fun, supportive and spiritually enriching learning environment. At the Open House, we will offer singing, musical activities and snacks for kids and a reception for parents, where you can learn more about this educational and fun program for your child. Please RSVP at:
https://www.eventbrite.com/e/pilgrim-music-open-house-tickets-70786180371
. If you can't attend the September 10 event, another Open House is offered at the same times on Tuesday, September 17. RSVP for the 9/17 event at:
https://www.eventbrite.com/e/pilgrim-music-open-house-tickets-70789775123
Wednesday September 11 at 7 PM, Love's Way - A Book Talk with Sig Cohen
. Families with aging parents and loved ones often struggle with issues like caregiving, end-of-life planning, and the need for transparency. Sig Cohen, co-author of Love's Way: Living Peacefully With Your Family As Your Parents Age, will discuss these and other concerns that crop up often when we least expect them. Drawing on his mediation and personal experience from working with families, he will also address parents' quest for independence vs. their adult children's concern for their safety, fear of initiating necessary conversations, and what documents everyone needs. RSVP for this free talk on Eventbrite:
http://bit.ly/2lvXeab
. At the Northeast Library, 330 7th St. NE.
Thursday, September 12 at 7:30 PM, Regennia Williams: My Story, My Song, My Sources, a Washington, DC Jazz Book Tour Event
. Join author and historian, Dr. Regennia N. Williams, as she presents on the process of researching her latest title Washington, DC Jazz, an "Images of America" publication co-authored with Rev. Dr. Sandra Butler-Truesdale. Hear clips of oral history from DC jazz legends, learn about where Dr. Williams found her most telling sources and share your own insights to the world of jazz in our nation's capital. Dr. Regennia N. Williams is an independent consultant, an author, an educator, a historian and the founder and director of the RASHAD Center, Inc., a Maryland-based nonprofit organization. In 2018, Dr. Williams served as the humanities scholar for "Washington, DC, Jazz: The Music of the Metropolis and Beyond," a DC Legendary Musicians Humanities DC grant-funding project. Free. At the Francis A. Gregory Library, 3660 Alabama Ave., SE. More info:
https://www.dclibrary.org/node/64164
Thursday, September 12 at 6 PM, Cottage Conversation: "All the Powers of Earth: The Political Life of Abraham Lincoln, Vol. III, 1856-1860
. Join us as Sidney Blumenthal and Representative Jamie Raskin discuss Blumenthal's new book, All the Powers of Earth: The Political Life of Abraham Lincoln Vol. III, 1856-1860. Cottage Conversations offer relaxing evenings to socialize and learn something new about our 16th president from authors, collectors, and artists. The program begins with a cocktail reception, is followed by the conversation, and concludes with a book signing. The reception begins at 6 PM at the Robert H. Smith Visitor Education Center. The Conversation starts at 6:30 PM in President Lincoln's Cottage. Admission: $10 for the lecture and $10 for the reception, available here:
http://bit.ly/2lEJ46w
. President Lincoln's Cottage is at 140 Rock Creek Church Road NW
Thursday, September 12 at 6:30 PM, The 51st Festivities: DC for Statehood
, Presented by Mayor Muriel Bowser. Statehood is about the fundamental American values of equality and fairness. DC is made up of more than 702,000 people, yet because we don't live in a state, we do not have a vote in Congress. On September 19, Mayor Muriel Bowser will give testimony to the House Committee on Oversight and Reform in favor of legislation recognizing Washington DC as the 51st state. Let's continue to build momentum - join us for this free event championing DC statehood. The night will feature music, speakers and like-minded advocates – come share in the cause and celebrate DC's path to statehood! Additional information to follow. To learn more about DC statehood, visit https://statehood.dc.gov/. Register at
http://bit.ly/2kv22wf
. At the State Room Event Space, 201 D Street NE.